The G-BOX2 realizes fast mode on vehicle and bench when all keys of Mercedes-Benz vehicles using ths DAS3 EIS/EZS are lost. The use of the G-BOX2 reduces the time needed and eliminates the process of insertion and removal. 
The G-BOX2 can read and access most engines manufactured by Bosch including EDS/ MEx17 series engines used in BMW and Volkswagen Vehicles. This capability supports the ability to perform adaptions when all keys are lost and engine is replaced. 
The G-BOX2 is compatible with the Autel's advanced diagnostic tablets support IMMO and key programming functions. 
Highlights:


Supports Mercedes Benz All Key Lost, faster calculate password
Supports IM608 or IM508 with XP400
Used for Faster Mercedes ECU data and EIS password calculation
Mercedes DAS3 can EIS/EZS all keys lost
Reduces reading time of W204 ECU data & W207 EIS by over 85%
No need to remove and reinsert the key for W221 & W164 after 2009 Models

Less Time, More Secure:

1. Support fast mode on Vehicle and bench when all keys of Mercedes-Benz vehicles using the Das3 EIS/ EZS are lost 
2. Read and write Bosch Engine ECU on F Classis of BMW and MQB of Volkswagen
3. With the Autel's advanced Diagnostic Tablets supporting IMMO and Key programming functions
Product Display: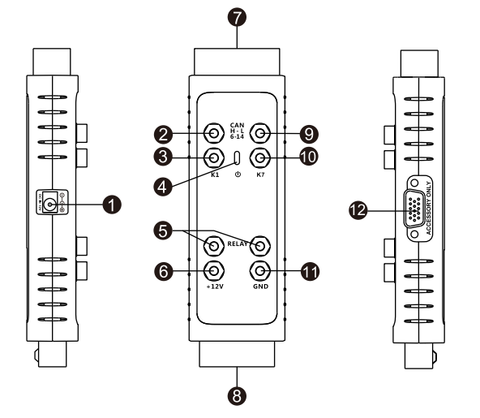 DC Port - Provides +12V DC power supply.
CAN-H Port - Universal CAN bus interface, connects with OBDII Pin6
K1 Port - Universal K-Line interface, connects with OBDII Pin1
Status Indicator - Indicates the current operating status 
Relay Ports - Connect with dedicated relay cables
+12V Power Port - Universal power input/ output port
OBDII Connector - Connects to the vehicle's OBDII directly or via a dedicated extension cable 
OBDII Female Connector - Connects to the main cable of Autel diagnostic tablet
CAN-L Port - Universal CAN Bus interface, connects with OBDII Pin14
K7 Port - Universal K-Line interface, connects with OBDII Pin7
GND Port - Universal power input/ output port
DB15 Port - Used with dedicated DB15 cable for reading and writing multiple types of ECUs 

How to Make the G-BOX2 Work?

1. OBDII Operation when all keys of Mercedes-Benz vehicle are lost 
Use OBDII access on Mercedes=Benz vehicles manufactured after 2009 with W204, W207, W216 and W164 EISs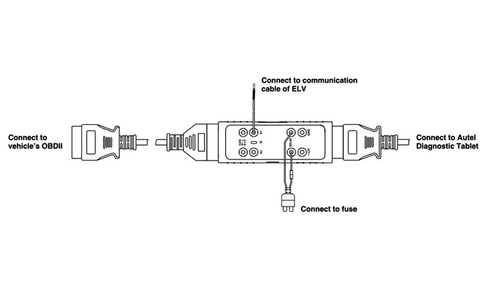 Conection Steps:
1). Connect the G-BOX2 to vehicle's OBDII
2). Remove the fuse of vehicle EIS. Connect the Relay ports to the fuse using the supplied fuse cable. 
3). When the vehicle has an ELV, connect the K7 port and ELV plug using the supplied K-Line cable 
4). Connect the G-BOX2 to the Autel Diagnostic Tablet. 

2. Desktop operation when all keys of Mercedes-Benz vehicle are lost
Use this method for all Mercedes-Benz vehicle EISs supported by Autel diagnostic tablets supporting IMMO and Key Programming Functions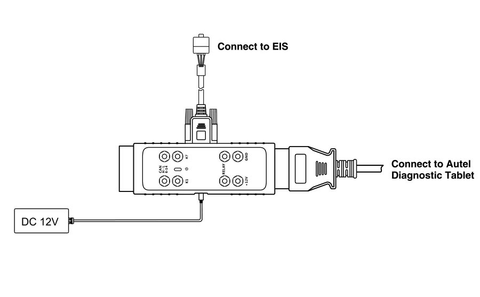 Conntection Steps:
1). Connect the G-BOX2 to the Mercedes-Benz EIS using the supplied DB15 cable
2). Connect to the DC Port of G-BOX2 using a power adapter (DC 12V)
3). COnnect the G-BOX2 to the Autel Diagnostic Tablet

3. Reading engine password operation on bench
Use this method for Bosch ECUs supported by Autel Diagnostic Tablets supporting IMMO and Key Programming Functions
Connection Steps:
1). Connect the G-BOX2 to Autel diagnostic tablet
2). Connect the G-BOX2 to Engine ECU
3). Connect to the DC port of G-BOX2 using a power adapter (DC 12V)

Package List:

1pc x Autel G-BOX2
1pc x DB15 Cable
1pc x K-Line Cable
1pc x Fuse Cable
1pc x OBDII Extension Cable
1pc x Quick Reference Guide
2pcs x Fuse (5A)
2pcs x Clamp Cable