Autel AutoLink AL619 is the perfect tool for detecting faults on vehicle Anti-Lock Brake (ABS) and Supplemental Restraint System (SRS)/ Airbag systems, in addition to performing OBDII diagnostics. Both visual and audible cues enhance the tool's ability to aid in quick fault discovery, while on-screen troubleshooting tips speed repairs
Highlights:

Lifetime Free Update Online

Vehicles Coverage:

Works on All 1996 and newer vehicles (OBDII & CAN), such as GM, Ford, Chrysler, Volvo, VW, BMW, Mercedes, Toyota, Honda, Nissan, Hyundai, Kia, Subaru, Mitsubishi, Peugeot, Citroen, Fiat, Renault, LandRover, Jaguar

Functions:

Diagnoses ABS/ SRS system codes on most 1996 and newer major vehicle models


4.Support Print Out Diagnostic Report via PC




5. It is a necessary product for professionals.

Autel is an advanced developer so it makes professional and reliable tools that are reasonably priced.


6. Easy-to-use push button interface.

 You can easily read and clean Anti-lock brake system and supplemental restraint system codes.


7. It is inexpensive.

This scanner works just like other scanners that are a lot more expensive. Great choice for those who want to save money and get a useful product


8. Multi

ple

Language Supported:  

German/ French/ Spanish/ Portuguese/ Polish/ Italian/ Dutch/ Russian (The Default Language is English, after you receive the item from us, please register on Autel official website, and pass me serial number, we will change the language you want.)

Notice:
Abarth, Alfa, Citroen, Dacia, Fiat, Lancia, Peugeot, and Renault are only for Autel AL619EU

Autel AutoLink AL619 Functions:

1. Graphs data
2. Views freeze frame data
3. Restores and clears codes in Anti Lock Braking System (ABS)
4. Restores and clears codes in Supplemental Restraint (Airbag) System (SRS)
5. Shows monitor and I/M preparation status (discharge)
6. Retrieves generic (P0, P2, P3 and U0), manufacturer specific (P1, P3 and U1) codes and pending codes
7. Turns off Malfunction Indicator Light (MIL) and ABS/SRS warning lights, clears codes and resets monitors
8. Reads, stores and playbacks live PCM datastream and live sensor data
9. Retrieves/ Restores vehicle information (VIN, CIN and CVN)
10. Troubleshooter code tips guide technicians to the root cause of trouble codes faster
11. TF memory card for data backup and software update

Additional ABS/SRS Testing Function:

ABS: in most vehicles is made up of an electronic hydraulic pump of two, three or most commonly four Wheel Speed Sensors (WSS), a G-force sensor, a Vehicle Speed Sensor and an ABS Control Module (EBCM). The EBCM is constantly monitoring the WSS, the Vehicle Speed Sensor, and the G-sensor.
Diagnosing an ABS problem should always start with a visual inspection of all brake components, then you will need to retrieve ABS DTCs to tell you where the problem is.

SRS: is made up of Impact Sensors, a Control Module, and Airbags. When the impact sensors detect a collision they send an extremely fast signal to the control module, which relays that signal to the airbags, deploying them to help prevent vehicle occupants from hitting interior objects such as steering wheels, dashboards, and the like. When the control module detects a problem with the airbags or sensors the Malfunction Indicator Light (MIL) will turn on.
The ABS/SRS diagnostic function is used to retrieve and clear codes from the vehicles ABS/SRS systems. It also provides the definition of each code to help diagnose problem areas within the systems that may cause the Malfunction Indicator Light (MIL) to turn on.

Autel AutoLink AL619 Features and Reviews:

1. The Autel AL619 is a versatile code reader as it is able to retrieve manufacturer-specific, generic, and pending codes.
2. This scanner has the ability to diagnose and erase both the anti-lock braking system and safety restraint system. These two are very important safety features for any car.
3. Apart from providing a visual display with LEDs, the AL619 as well offers audio sounds. This built-in audio technique informs the user when the scanner is done scanning and fully repaired.
4. It is compatible with a wide range of vehicles that are OBD1, OBD2, and CAN compliant. This includes more than 50 car brands from Asia, Europe, and the domestic market.
5. It is of a compact design and lightweight as it only measures 70.9 by 31.5 by 102.4-inches. With these two features, this is a simple to use and portable diagnostic code reader.
6. It as well features the IM messaging which offer the user the capacity to get live data feeds and the ability to check the status emissions.
7. The Autel AL619 performs a wide range of functions such as retrieving vehicle information, retrieve and clear codes in ABS & SRS, view freeze frame data, and reads, stores, and playback live data stream.

Autel AutoLink AL619 Display: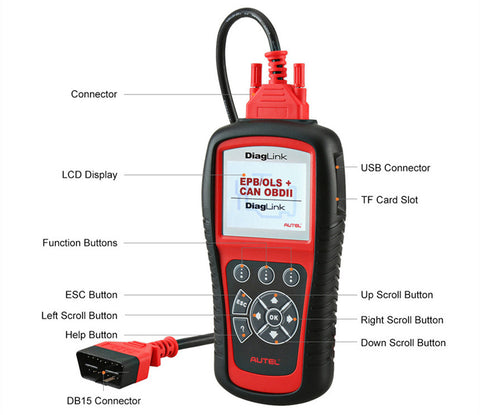 1) OBD II CONNECTOR - Connects the scan tool to the vehicle's Data Link Connector (DLC).
2) LCD DISPLAY - Indicates test results.
3) FUNCTION BUTTONS - Corresponds with "buttons" on screen for executing commands.
4) ESC BUTTON - Cancels a selection (or an action) from a menu or returns to the previous screen.
5) LEFT SCROLL BUTTON - When look up DTC definitions, moves to previous character and views additional information on previous screens if DTC definition covers more than one screen; views previous screen or previous frames of recorded data. It is also used to view previous trouble code when viewing DTCs.
6) HELP BUTTON – Provides help information and Code Breaker function.
7) DOWN SCROLL BUTTON - Moves down through menu and submenu items in menu mode. When more than one screen of data is retrieved, moves down through the current screen to next screens for additional data. When looking up DTC, it is used to change value of selected character.
8) RIGHT SCROLL BUTTON - When look up DTC definitions, moves to next character and view additional information on next screens if DTC definition covers more than one screen; views next screen or next frames of recorded data. It is also used to view next trouble code when viewing DTCs.
9) OK BUTTON - Confirms a selection (or action) from a menu.
10) UP SCROLL BUTTON - Moves up through menu and submenu items in menu mode. When more than one screen of data is retrieved, moves up through the current screen to the previous screens for additional data. When looking up DTC, it is used to change value of selected character.
11) USB CONNECTOR - Connects the scan tool to the PC for printing.
12) TF CARD SLOT - Holds the TF card

Autel AutoLink AL619 Specification:
Display: TFT color display (320 x 240 dpi)
Operating Temperature: 0 to 60°C (32 to 140 F°)
Storage Temperature: -20 to 70°C (-4 to 158 F°)
External Power: 8.0 to 18.0 V power provided via vehicle battery

Package List:

1pc x Auto Link AL619
1pc x User manual
1pc x USB cable
1pc x OBDII Cable
1pc x Protective Nylon Case                    
1pc x TF card  
1pc x 3.7V Li-ion battery