Categories
UK Ship
Regular price
£2,304.00
£2,320.00
Regular price
£351.00
£365.00
Regular price
£1,793.00
£1,889.00
Sidebar
Autel AutoLink AL319 OBDII & CAN Code Reader
: Unavailable
: Code Readers/Code Scanners
: Autel
Autel AutoLink AL319 Description:Autel AutoLink AL319 eliminates drive cycle guesswork by notifying the driver with color codes LEDs, audible tone and dynamic...
QUESTIONS & ANSWERS
Have a Question?
Be the first to ask a question about this.
Ask a Question
Autel AutoLink AL319 Description:
Autel AutoLink AL319 eliminates drive cycle guesswork by notifying the driver with color codes LEDs, audible tone and dynamic all-in-one I/M readiness status. AutoLink AL319 supports online update.
Autel AutoLink AL319 Features:
1. Works on ALL 1996 and newer vehicles (OBD II & CAN)-domestic and import
2. Features the unique patented One-Click I/M Readiness Key for quick State Emissions readiness check and drive cycle verification
3. Retrieves generic (P0, P2, P3, and U0), manufacturer specific (P1, P3, and U1) codes, and pending codes
4. Bright color coded LEDs and built in speaker provide both visual and audible indication for readiness verification
5. Turns off Malfunction Indicator Light (MIL), clears codes and resets monitors
6. Easily determines the cause of the Malfunction Indicator Light( MIL)
7. Views freeze frame data
8. Displays DTC definitions on the TFT color screen
9. Displays monitor and I/M readiness status (emissions)
10. Reads live PCM datastream
11. Retrieves vehicle information(VIN, CIN and CVN)
12. Multilingual menu and DTC definitions- English, Spanish and French, etc
13. Extremely easy to use and highly reliable
14. Internet updatableand upgradeable
Autel AutoLink AL319 Display
: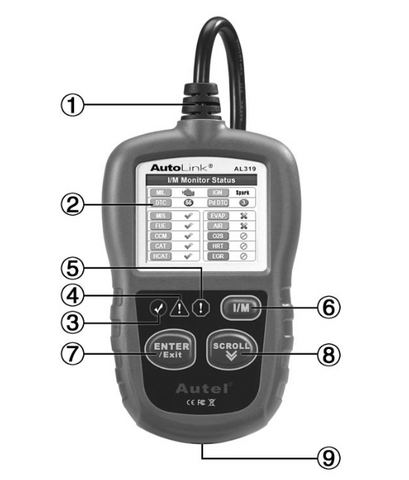 1.
OBD II connector –
Connects  the scan tool  to  the vehicle"sData Link Connector (DLC).
2.
LCD display
– Indicates test results.
3.
Green  LED
– Indicates  that  engine  systems  are  running normally  (Thenumber  of  monitors  on  the  vehicle which are active  and  performing  their  diagnostic  testingis  in  the  allowed limit, and no DTCs are present).
4.
Yellow LED
– Indicates there is a possibleproblem. A "Pending"DTC is present and/or some of the vehicle"s emission monitors have not run their diagnostic testing.
5.
Red LED
– Indicates there is a problem in one or more of the  vehicle"s  systems. The  red  LED  is  also  used  to  show  that DTCs are present. DTCs are shown on the Scan Tool"s display. In  this  case,  the  MIL  lamp  on  the  vehicle"s instrumentpanel will light steady on.
6.
One-Click I/M Readiness Key
– Quick-checks  State Emissions readiness and drive cycle verification.
7.
Enter/Exit button
– Confirms a selection (or action) from a menu.Or returns to previous menu.
8.
SCROLL button
– Scrolls through menu items.
9.
USB connector
– Connects  the scan tool  to  thePC  for upgradin
Autel AutoLink AL319 Specification:
Display: TFT color display (220 x 176 dpi)
Operating Temperature: 0 to 60°C (32 to 140 F°)
Storage Temperature: -20 to 70°C (-4 to 158 F°)
External Power: 8.0 to 18.0 V power provided via vehicle battery
Autel AutoLink AL319 Package List:
1pc x AutoLink AL319 main unit
1pc x User's Manual
1pc x USB Cable
1pc x CD
1. NO Import Duty, Easy Clearance Way:
1) Ship from UK Warehouse (Normally take about 2-7 working days to different EU countries. )

Only Item title marked "Ship from UK" will ship from UK warehouse! Our UK warehouse mainly ship to the following country:

Attention:

A: To UK local address, normally take about 2-3 working days. to other European country will take about 5-7 working days, this all depends on the address is close or remote.
B: We just have stocks in UK warehouse, do not have branch company in UK, if item have problem need refund or repair, you need to send back to our Shenzhen, China warehouse.
C: If customer country do not have Shipping service in our UK warehouse or only have UPS service, customer need pay the UPS freight difference or package will ship from Shenzhen, China.

2). Shipment by Yanwen Express Service (No Tax Problem - Normally will take about 7-10 working days)

In order to help client who from EU countries avoid the high tax problem, we can send packages by Yanwen from shenzhen warehouse. it will take about 7-10 working days to arrive. but clients do not need to pay any extra payment for the import duty. Yanwen will help to make the customs clearancce for this. and we will help to afford all cost.

3). Normal Registered Airmail Post way (No Tax - Very Slow)

* Registered Airmail Includes Netherlands Post, China Post, USPS Post, Singapore Post, Hongkong Post, etc
* Order amount less than 150USD, and package weight less than 2KG will be sent by Registered airmail.
* But if you feel it is really slow, and want us to send by DHL, you can choose "Premium Delivery" and pay for the extra shipping for express service. finally we will send it by DHL.

2. Other Express Service

1) If the item you brought is no stock in our overseas warehouse. we will send packages from shenzhen China by DHL, Fedex, UPS, etc. (DHL will be the default delivery method)
2) Those express service will just take about 3-5 working days to arrive.
3) But to some eu countries, there might be customs duty problem. for this situation, we will always help to write low value on invoice to avoid high tax problem. So if you have any special rquest on this, you can email to inform us your suggestions. we will help to make it

3. Attention Please:

1). Our company is based in China, DHL packages would ship from Shenzhen or Hongkong.
* For our main market is European, Espeially UK, so our website domain is end as .co.uk
2). Products freight paid is the package freight ship to destination, not including TAX or VAT
3). Declare lower reduce tax not means no tax, we only declare lower help you clearance, customers should know the tax policy in their country, Check different country Tariff threshold
4). Any questions during the delivery or clearance please need contact us immediately, we would try our best sort out and help you clearance.
5). If address is remote area, Customer should pay the remote freight for DHL or we will ship package to you by Yanwen or Normal Post. some countries DHL have DHL limite freight,those area customer need pay DHL limite freight then can use DHL shipping.

Enjoying shopping!

Sincerely Yours
AutelDiag.co.uk Customer Service